West Sussex amputee racing driver returns to the track
Article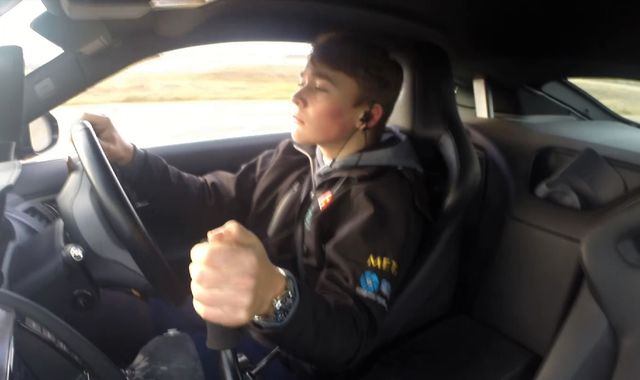 8:26am 12th January 2018
(Updated 2:28pm 12th January 2018)
Lest than nine months after a near fatal crash cost him both of his legs, a West Sussex racing driver is preparing to return to motorsport.
Billy Monger, who lives in Crawley, is already planning a return to competitive racing next season.
The 18-year-old will drive this week in an exhibition at Birmingham's NEC Arena.
He had both of his legs amputated after a high speed crash during a Formula 4 race at Donington Park last April.
But Billy says his dream of reaching F1 remains unchanged.
He told Sky News: "My focus is on driving in F3 next season, we are working on a budget for it and long term I want to get into F1.
"I'm so grateful to everyone who has backed me.
"I was in a coma for the first three days and then when I woke up all these donations had come flooding in. The support from the motorsport community has been amazing."
Terry Grant is a professional stunt driver who has been teaching Billy the moves he needs to know for his NEC appearance.
"All the other drivers have notes and notepads in their cars, Billy doesn't," he said.
"It's all in Billy's head. That's how focused he is. He's a brilliant driver and I just wanted him to have something to get his teeth into while he continues his recovery."
Mission Motorsport is a military charity that helps injured veterans and they too have been helping Billy on his road to recovery.
Lionel O'Connor, a wounded veteran who lost his leg in an IED explosion in Iraq in 2006, said: "His attitude is first class, we have learnt a lot from being around Billy.
"Billy's driving skills are pretty decent, to say the least!"
Share This Story
Contact Us
If you would like to submit a query or provide more information on this story please get in touch below.
Suggested articles
'Drunk' pilot forced off flight at West Sussex airport
Armed police called to Gatwick
Man snatches handbag from elderly woman in West Sussex
It happened in broad daylight
Most read
New case of deadly dog disease in West Sussex
Here's what pet owners need to know...
Advice for dog walkers after poison found in West Sussex
There have been multiple reports recently
Newer article
Older article